01 - PB Touch Introduction
Last updated
Performance Box Touch measures Speed, Lap and Split Times, Delta-T, acceleration and deceleration as well as distance and more.
All these parameters are logged to an SD memory card ten times per second for later review and comparison.

Performance Box Touch contains a high-performance 10 Hz GPS and GLONASS engine and integrated antenna, as well as supporting an external antenna. The Performance Box Touch provides a wealth of information with very easy installation and use.

The Performance Box Touch gets all its information from satellites and can be powered from a vehicle or via the optional battery. The operation is split up into 4 different modes and display options shown via the clear to read 4.3" colour touch screen.
Features
4.3" TFT daylight readable capacitive touch screen
4 x high brightness LED Indicators
Built-in applications such as performance testing, lap timing and speedometer

10 Hz GPS receiver with internal patch antenna
SMA connector for external GPS antenna (overrides the internal antenna when connected)
Available with battery
Connectors
More detailed connector information can be found on the PIN OUTS page.
Left Side
Right Side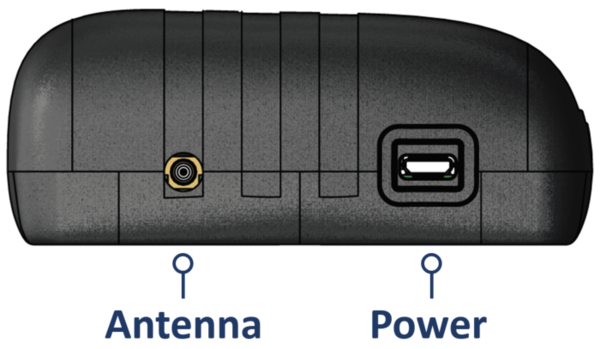 Inventory
RLPBT-V1
| Product Code | Quantity | Description |
| --- | --- | --- |
| PBT-V1 | 1 | Performance Box Touch Unit |
| RLACS184 | 1 | Cigar Plug USB Adapter |
| USB2-007241 | 1 | USB 2.0 A to Right Angle Micro B data and Charging Cable, 1.5 m |
| RLACS313 | 1 | 8 GB SD Ultima Pro UHS-1 Memory Card |
| RLACS277 | 1 | Swivel Neck Richter Suction Mount |
RLPBT/B
| Product Code | Quantity | Description |
| --- | --- | --- |
| PBT-V1 | 1 | Performance Box Touch Unit |
| RLACS184 | 1 | Cigar Plug USB Adapter |
| USB2-007241 | 2 | USB 2.0 A to Right Angle Micro B data and Charging Cable, 1.5 m |
| RLACS313 | 1 | 8 GB SD Ultima Pro UHS-1 Memory Card |
| RLACS277 | 1 | Swivel Neck Richter Suction Mount |
| RLACS290 | 1 | Performance Box Touch Battery |
| RLACS284 | 1 | GPS/GLONASS Low Profile Antenna, 2 m |
| RLACS281 | 1 | Plastic Carry Case |