ABD Path Follow
Last updated
Hardware Configuration
For successful integration with the ABD Path Follow system, the user will need the following equipment in each Vehicle: -
1 x VB3iD-RTK system (with both GPS antennas connected and placed 1 m apart*)
1 x IMU04 (connected to the VBOX via the RLCAB119)
1 x IMU Roof Mount
1 x DGPS Radio and antenna
1 x CAN Hub (optional)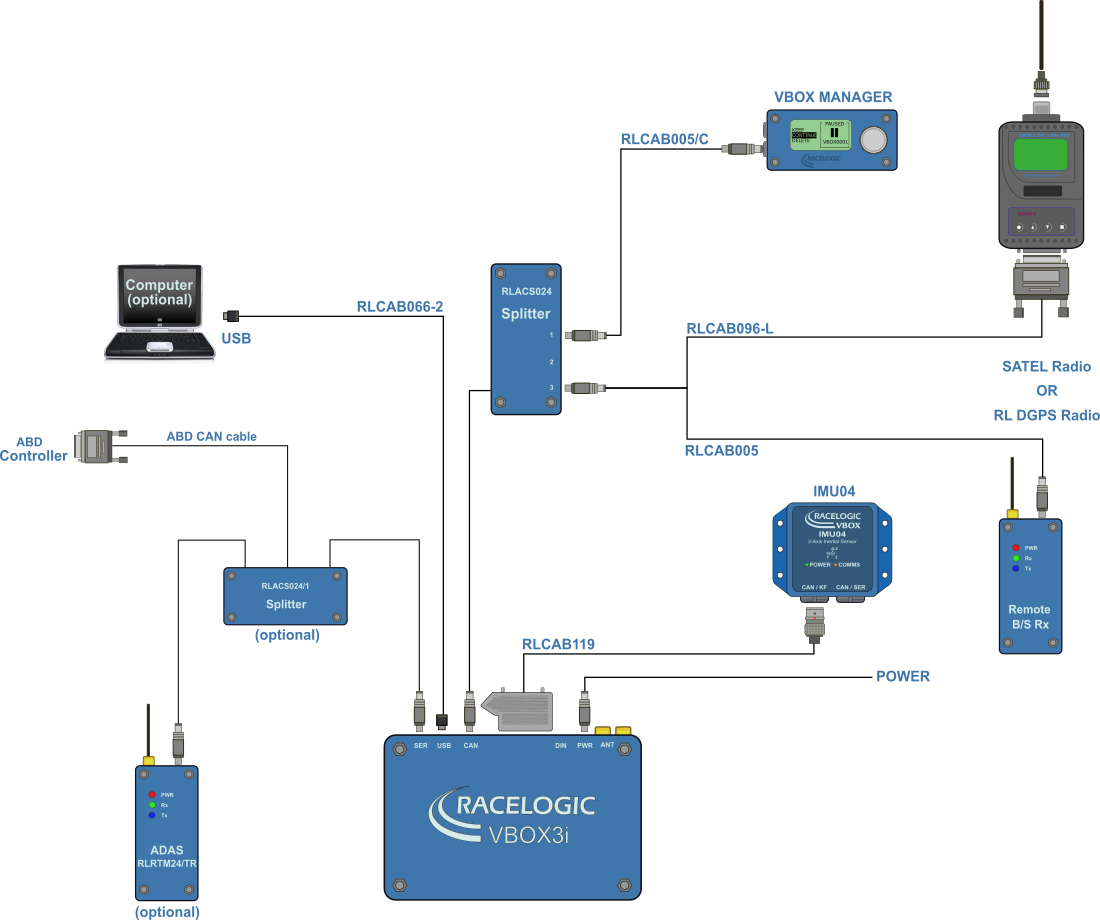 VBOX Manager Configuration
Connect VBOX Manager to the VBOX.

Enter the 'SETUP' menu of VBOX Manager.

Select the 'Robot Modes' option and choose 'Configure'.
Scroll to 'ABD Path Follow' and select, depending on whether you are using a single or dual antenna setup, select either 'Single Antenna' or 'Dual Antenna'
Configuration Settings
Selecting the 'ABD Path Follow' option within VBOX Manager will automatically configure the VBOX to work with the ABD path following system by applying the following settings:

Dynamic Mode – 'High'
Hi Dynamic KF – 'Disabled'
Log Rate – '100 Hz'
DGPS Mode – 'RTCM v3*'
Dual Antenna Mode – 'Enabled' or 'Disabled'
Dual Antenna Orientation – 'Pitch Mode' or N/A
Dual Antenna Separation – '1.000 m**' or N/A
IMU Integration – 'Enabled'
IMU Roof Mount – 'Enabled'
On units without a CAN Hub:

VCI CAN bus – 'RS232 port'
VCI CAN Rate – '500 kbit/s'
VCI Termination – 'Enabled'

On units with a CAN Hub:

VCI CAN Rate – '500 kbit/s'
VCI2 Termination – 'Enabled'

The following CAN IDs will also be switched on, more information on these is available here:-
If an IMU is detected, the IMU channels will be enabled for logging and channels added to Pass through CAN output. The following CAN pass through channels will also be applied as well:

600 - Yaw Rate - X Acceleration
601 - Y-Accel - GPS Altitude
602 - Pitch Rate - Roll Rate
603 - Z-Accel
*Please note that the user must manually select the correct DGPS serial rate that relates to the radio system they are using.
**1.000 m is the default dual antenna separation. If it is not possible to gain a 1 m separation, then the user will have to enter the required separation value in the 'Dual Antenna' area of VBOX Manager.

Once the option has been selected, the VBOX Kalman Filter position clamp will change from 2 mm per sample to 1 mm per sample, offering a smoother position and heading transition once GNSS lock as been established after a GNSS signal degrade/denial phase. This is a safety feature that prevents sudden position corrections.