05 - VBOX Tools - VBOX
Last updated
Summary
When a VBOX is connected to a computer running the VBOXTools software the 'Summary' button can be pressed at any time to view the details of the connected VBOX. Basic setup details of the VBOX are shown as well as the serial number, firmware version and GPS firmware revision. Details of any connected modules are also shown.

VBOX Set Up
To configure a VBOX datalogger or VBOX speed sensor, the VBOX needs to be connected to a power source and a PC. (Please refer to the VBOXIII User Guide for details of the serial connection).
Please note that the setup options available will vary between units, particularly for VBOX speed sensors. The VBOX Mini has no on-screen configuration options (only information about the unit is shown) but the VBOX Setup facility can be used for configuration of a VBOX Mini Input Module when attached to the VBOX Mini.

Enter the VBOX Setup screen by clicking on the 'VBOX Set-up' button in the Main Button bar.

Or Selecting 'VBOX Setup' from the 'VBOX ' option of the main Menu bar.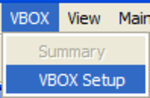 See the section 'Configuring the VBOX and Modules' for more information on setting up the VBOX.