01 - Speed Sensor Introduction
Last updated
Features
RLVBSSxx Speed Sensor
5 – 20 Hz: High Performance GPS Receiver; 100 Hz: High Performance GPS/GLONASS Receiver
CAN Bus Output includes: Speed, Heading, True Heading, Brake Stop Distance, Radius of Turn, Gyro Yaw Rate
CAN stabilization*
RS232 Serial Output of NMEA, position, velocity and time**
User Configurable Analogue Output
User Configurable Digital Output
Virtual Lap Beacon Output
Compatible with DGPS Basestation*
Rugged Deutsch ASDD Autosport connector
High quality aluminium enclosure
IP66 rated: water and dustproof
Wide 7 – 30 V operating range
Low current consumption
* 100 Hz units only
** Excludes 5 Hz
Dual Antenna Speed Sensor
100 Hz High Performance GPS/GLONASS Receiver
CAN Bus Output includes: Speed, Heading, True Heading, Slip Angle, Pitch or Roll Angle, Slip Translations, Brake Stop Distance, Radius of Turn, Gyro Yaw Rate
CAN stabilization
RS232 Serial Output of NMEA, position, velocity and time
User Configurable Analogue Output
User Configurable Digital Output
Virtual Lap Beacon Output
Compatible with DGPS Basestation
Rugged Deutsch ASDD Autosport connector
High quality aluminium enclosure
IP66 rated: water and dustproof
Wide 6.5 – 30 V operating range
Low current consumption
Hardware Overview
RLVBSSxx Speed Sensor
Speed sensor units have a hardware footprint of between 9 and 13 cm long (depending on model).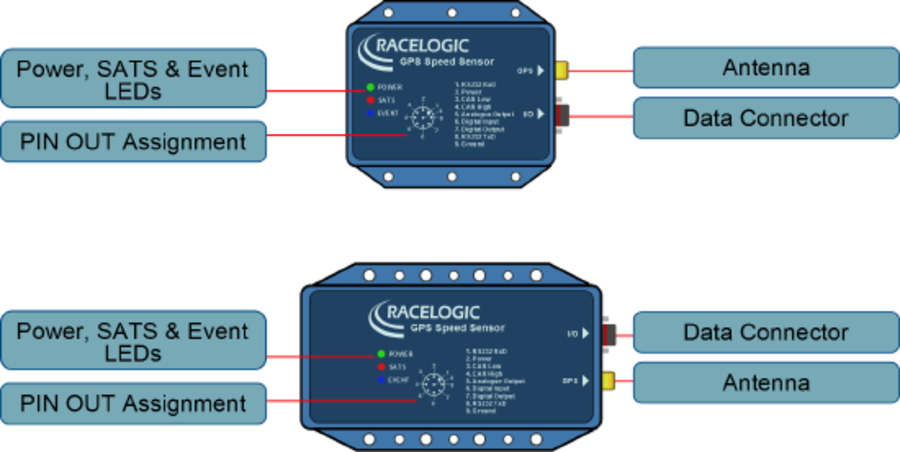 Dual Antenna Speed Sensor
The dual antenna speed sensor unit has a hardware footprint of only 13 cm long.
Interfacing with the Speed Sensor
The VBSS can be used in a number of ways and it is common for the end user to integrate the VBSS connector into their own wiring harness. A mating connector, Deutsch ASDD606-09PN, may be purchased from Racelogic for this purpose.
Before connecting power to the VBSS you should connect the GPS antenna; this is because the VBSS will look for a connected GPS antenna and automatically adjust its gain for optimum performance from the connected antenna. For more information about the GPS antenna and antenna placement see the section 'GPS Antenna'.
Outputs
Power
The VBSS can be powered from a wide range of voltage sources including a Vehicle Cigar adapter, a Racelogic Li-ion battery pack or other source provided by the user. The supplied power cable is un-terminated. The maximum operating voltage input must not exceed 30 V DC. Failure to observe this could result in damage to the VBSS.
Note: During extended use, the VBSS case may become hot. This is normal; however it is good practice to mount the VBSS in a position where it has sufficient airflow around the case.
Mounting
The RLVBSS should be securely mounted within the vehicle so that it is level with the ground.