04 - CAN Gateway Connection to VBOX 3i
Last updated
CAN Gateway is an incredibly versatile product and can be connected to VBOX 3i via an RLCAB006 (included in package). It can be used for many applications including recording data from a vehicle CAN/CAN-FD Bus and a Racelogic module or Temperature Monitoring System at the same time, along with connecting an MFD Multi-Function Display or 3rd party data logger.
Hardware Setup
Software Setup
CAN Gateway Setup
To log CAN/CAN-FD channels within VB3i, you will first need to configure the required signals within CAN Gateway Setup Software and save the configuration files.
Please follow the steps below:
Open CAN Gateway Setup Software (can be downloaded from the VBOX Automotive Website).
Dependent on the requirement, choose between the CAN Passthrough, CAN Conversion or Wheel Speeds workflow.

Add signals from a loaded CAN or CAN-FD .dbc file or manually enter the details of individual CAN signals.
Define the vehicle and VBOX CAN/CAN-FD bus configuration settings.
Connect CAN Gateway to a PC via USB using the supplied connector RLCAB117 to the USB connector on the front panel of the unit.
Save the GWCONFIG.INI configuration file directly to CAN Gateway.
Save the .dbc file locally to the computer.
VBOX Setup
It is then necessary to upload the output messages to the VB3i using VBOX Setup Software and write the settings to the unit.

Please follow the steps below:
Ensure VB3i is powered.
Connect VB3i to a computer either via Bluetooth, an RLCAB001 cable to the 'SER' input and the computer's serial port (usb-serial adapter may be required), or via a RLCAB066-2 cable to one of the computer's USB ports.
Open VBOX Setup Software (can be downloaded from the VBOX Automotive Website) and connect to VB3i by selecting the correct COM Port.
Navigate to the 'Channels' menu.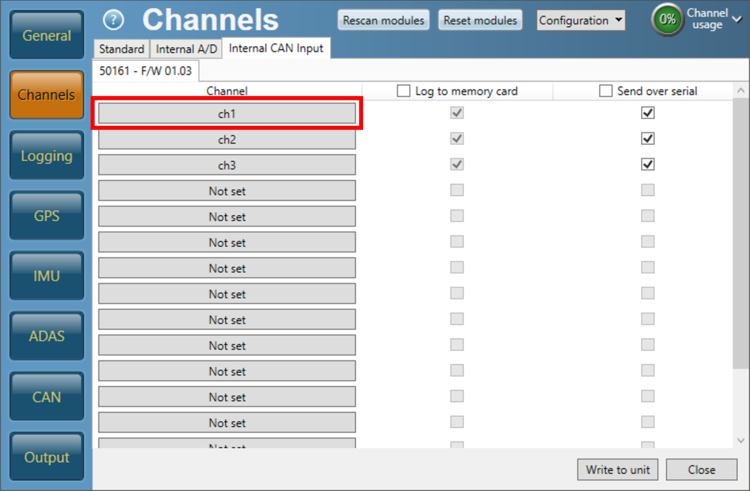 Click on the 'Internal CAN Input' tab and then select a channel.
Choose to 'Load' a User CAN Database file, browse your computer to find the .dbc file previously saved from the CAN Gateway Setup Software and press 'Open' to open the file.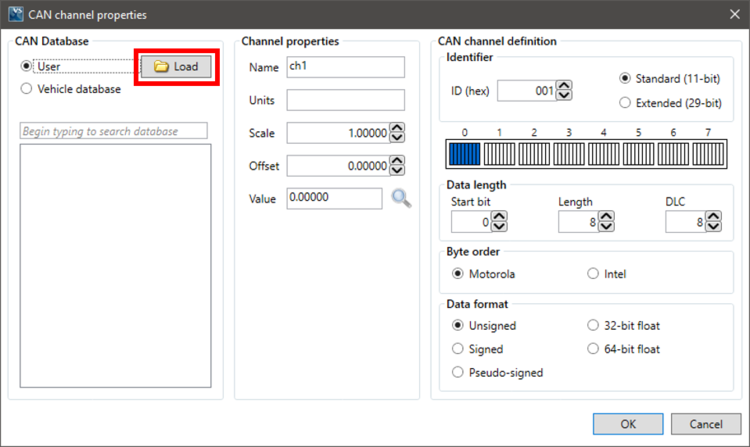 Select the desired signal and press 'OK' to load. Repeat as necessary.
Ensure the 'Log to memory card' and 'Send over serial' checkboxes are ticked.
Select 'Write to unit' to save the configuration to the VBOX 3i.
The settings are now saved and the live channel will be viewable in VBOX Test Suite as well as logged to the memory card if present