02 - Circuit Tools Ribbon Menu
Last updated
Ribbon Menu
The main Circuit Tools interface is a 'Ribbon' style Menu and consists of a main File button to access the main menu, a Quick access toolbar, and the different Tabbed menu items.

The visibility of the Ribbon menu can be toggled using the Ctrl + F1 shortcut key, the R shortcut key or the minimise/ maximise button to the right of the toolbar.
Hiding the menu gives you more room to analyse the data on smaller screens.

File Button
Clicking the File button brings up a number of options:

| | |
| --- | --- |
| Load | Load File (Ctrl + O and F3 shortcut) |
| Load split file | Load user defined split file |
| Load circuit overlay | Load circuit overlay file |
| Start/finish wizard | Manually set the Start/Finish (Ctrl + G shortcut) |
| Clear | Clear all data (Ctrl + N shortcut) |
| File transfer wizard | Copy files and rename them (F2 shortcut) |
| Quick Start Guide | Opens Quick Start Video |
| Software Guide | Opens Software manual (F1 shortcut) |
| Check for Updates | Software checks for any available updates |
| Recent files | Links to the last files used |
| About | Display the current Software version |
| Exit | Exit the software |
Quick Access Toolbar
This is located in the top left corner of the screen.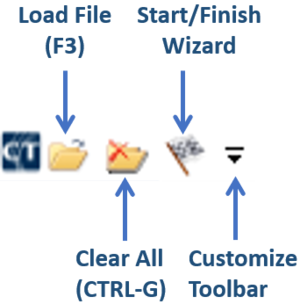 Tabbed Menus
There are different menu tabs for each of the main windows, Home, Session, Graph, Video, Track and Data.
These will change automatically when you click on one of the windows, and will contain relevant functions and settings for that particular window.

Tip

If you hover the mouse over any buttons, a text box showing helpful hints will appear giving more explanation about the function of that button.
Home Menu

Units
To change units of Speed, Distance or Acceleration, use the Units menu within the Home tab.

Screen Layout

The main analysis screen can be viewed in a number of different layouts depending on your requirements, information on all of the layouts available can be viewed within the Screen Layouts page.
Font and Colours
To change the font used within the software and the lap colours, use the Fonts and colours menu in the Home tab. It is also possible to change opacity (transparency) of unselected channels within this menu.
If Auto colour laps is enabled, then the fastest lap will always be displayed in red on the graph. To manually change the colour, switch off this feature and double click the coloured box alongside the Lap Number.


Language
It is possible to change the language used within the software between English and Deutsch by selecting the currently used language on the right of the Home menu and using the drop down menu.

IMPORTANT - Changing the language will cause the software to immediately close and reopen in the selected language without reopening the file in use.